Timeline
1886 (23 August): Born, Imber, Wiltshire.
Father: Henry DANIELS (1855-1948), Shepherd
Mother: Elizabeth Alice SMITH (1855-1928)
1891 (5 April) Living at Bush Farm, West Lavington, Wiltshire (age 4 ).
1901 (31 March) Stable boy, living at Alma Cottage, Church Street, Imber, Wiltshire (age 14).
1905 (3 January): Enlisted at Potterne, Wiltshire in 1st Battalion, Duke of Edinburgh's Wiltshire Regiment (age 18).
1911 (2 April) Lance Corporal, 1st Wiltshire Regiment, at Fort Napier, Pietermaritzburg Natal, South Africa (age 24). The Battalion was garrisoned there from 1909-1913.
1913 (28 November): Married Elizabeth Francis BEARD (1888-1971), Worton Church, Worton, Wiltshire. Sidney's occupation given as Nurse at Lavington Asylum, Wiltshire (age 27).
1914 (3 March) Civil Service Commission (Post Office) appointment as postman, Birmingham (age 27).
1914 (August). With 1st Battalion Wiltshire Regiment at Tidworth, Wiltshire. Under command of 7th Brigade in 3rd Division (age 27).
1914 (14 August): At Rouen, Seine-Maritime, Haute-Normandie, France. Disembarked with 1st Battalion Wiltshire Regiment, as part of British Expeditionary Force (age 27).
1914 (25 October): Lance Corporal Sidney Inkerman Daniells, No. 7179, B Coy, 1st Battalion, Duke of Edinburgh's Wiltshire Regiment, killed in action at the Battle of La Bassée, Neuve Chapelle, France (age 28). No known grave.
1914 (16 November): Birth of son, Sidney Inkerman DANIELS, Worton, Wiltshire.
1st Battalion Wiltshire Regiment
Battles and Engagements (August - October 1914)
War Diary
Saturday 24th October 1914 [Neuve Chapelle, France]
12.30a.m. night attack started against trenches and continues till about 2.30a.m. Proceeded with improvement on trenches as far as enemy's snipers would permit. Got all troops except HQ out of buildings by daylight. 9.45a.m. shelling of village and trenches commenced. Ceased for a few hours and was again continued without a break from 2 till 7p.m. Companies in trenches suffered from shell fire, their trenches being blown in by these heavy shells. Village suffered a good deal. B Coy in dug outs outside the village also suffered. Trenches report an attack about 5p.m. Sent up what could be collected of B Coy to reinforce trenches. 2nd Lieut Riddell slightly wounded. 8 men killed, 36 wounded and 23 men missing. It is feared that most of these 23 men were buried in the dug outs.
Sunday 25th October 1914 [Neuve Chapelle, France]
The Battalion were in a position west of Neuf Chapelle Ordered to move Bn HQ further back to West of Village. Had D coy stay in reserve. Trenches shelled pretty well all day. Also HQ a certain amount. Regt on our left was partly driven out of their trenches. Village reduced to ruins. Roads cut up by heavy shells. Difficult to get supplies up. Moved HQ up to village again after dark. Relieved A & C Coys in the trenches as far as possible by B & D Coys. Also withdrew what remained of the machine gun sections. Only 3 men left. Guns all night Captain Davis severely wounded. 37 men killed & 42 wounded. Lt Wand Tetley sent up to take command of A Coy.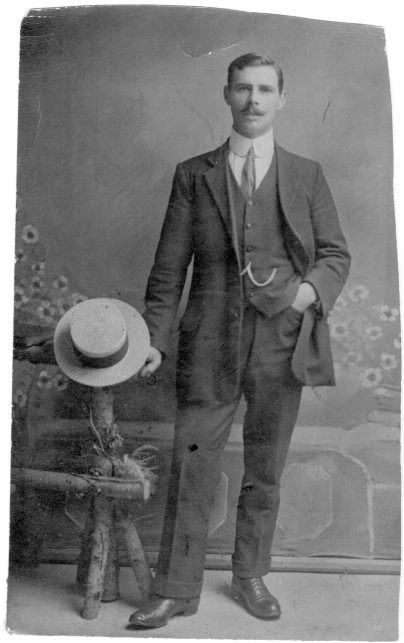 Sidney Inkerman Daniells, about 1913 (age 27)

"Monument touret 2" by Velvet -

Own work

. Licensed under CC BY-SA 3.0 via Wikimedia Commons.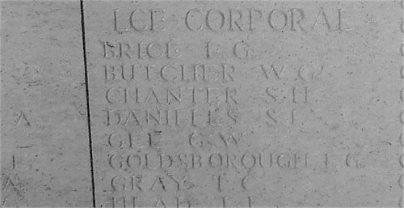 Inscription, Le Touret Memorial, Panel 33 & 34
Notes
Sidney was known familiarly as "Inker".
The name "Inkerman" almost certainly derives from the Battle of Inkerman (Crimean War), fought on 5th November 1854. It is unclear why Sidney was given this name.
Sidney had eleven siblings, born between 1881 and 1902.
The eldest sister (1881-1911) was named "Alma" (the name of another Crimean War battle). In 1901, the family lived at Alma Cottage, Imber.
Sidney and Elizabeth had two grandchildren (John Inkerman Daniels, Michael Inkerman Daniels), four great-grandchildren, and two great-great grandchildren.
Medals awarded: Allied Victory Medal; 1914 Star; British War Medal (Silver); Memorial Plaque. (Present location of medals unknown).